Bulletin 17 - June-July 2022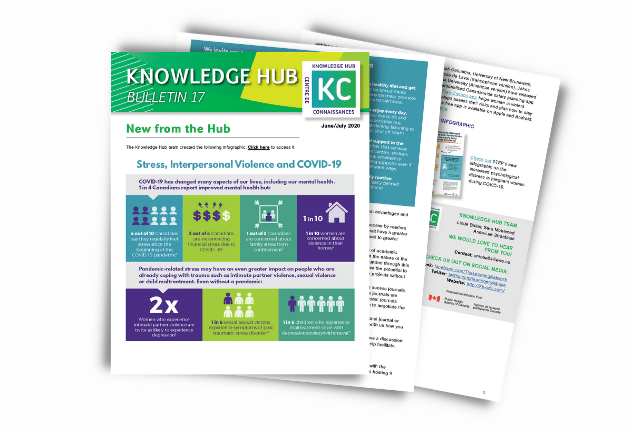 News from the Hub
The Knowledge Hub created the following infographic. Click here to access it. 
KNOWLEDGE HUB 2020/21 CALENDAR OF ACTIVITIES
COVID-19 has caused many interruptions, but we are happy to announce that we are continuing with our activities and looking for meaningful alternatives to in-person events, such as our annual Knowledge Exchange with the community of practice (CoP) members. Below is a snapshot of the activities we've planned for this year!
ONLINE ZOOM MEETINGS
We are continuing to host Zoom meetings with CoP members, with the first two being held in April and June 2020. Our next Zoom meeting is scheduled for September 15, 2020 from 1:00-2:15 PM EST. These online meetings are always an opportunity to share knowledge and benefit from the expertise of CoP members.
Publishing in Open vs. Traditional access journals
Recently, members of the community of practice discussed ways to share and publish their research results. A scholarly journal is one of the venues to disseminate knowledge to a broader audience. There are two types of journal publications, open access and traditional access. Each has its own advantages and disadvantages.
Open access journals are free to access by readers from all over the world and as a result have a greater visibility and access, which could lead to greater citations.
Research is now conducted outside of academic institutions more than ever and given the nature of the community-based projects that are funded through this investment, open access journals have the potential to reach those who were involved in the projects without the need of a university affiliation.
Despite the many advantages of open access journals, the cost of publication in open access journals are commonly more expensive than traditional journals. However, in some cases, there is room to negotiate the costs.
So, what do you recommend? A traditional journal or an open access journal? Please share with us how you intend to share your project results!
Also, please always contact us if you have a discussion topic in mind that you would like us to help facilitate.
WEBINARS
Knowledge Hub webinars are co-hosted with the Learning Network and we are planning on hosting 9  webinars during this fiscal year from April 2020 to March 2021. Webinar topics that we will cover this year include 2SLGBTQ+ experiences of gender-based violence, harm reduction and trauma-informed practice in violence against women shelters, technology-facilitated violence, technology as a tool to help survivors of violence, Indigenous trauma, and resilience.
Click here to check out our upcoming webinars!
The webinars are recorded, and the recordings are posted on our website within a few days following each webinar. The webinar presentation slides are also available in French.
Click here to access our past webinar recordings!
KNOWLEDGE EXCHANGE 2020/21
Planning for this year's knowledge exchange is different from previous years due to many current realities. Projects funded through this investment have different end dates and as projects approach their end dates, some key project members are moving on to other roles. In addition to this, uncertainties continue about COVID-19 and its impacts on travelling and large gatherings. During the June 9, 2020 Zoom meeting, the Knowledge Hub team proposed the idea of collaborating with a professional media company to host high quality live and interactive presentations by CoP members that would primarily focus on research findings and implications for practice, policy, and research. The media company would produce polished recordings of the presentations that would be used by CoP members and the Knowledge Hub to reach a wider audience. Stay tuned for more information!
BULLETINS
Our Knowledge Hub Quarterly Bulletins are primarily for CoP members and are designed to share updates about your projects and to feature your new project resources. Please contact us if your project has a new resource that you would like us to feature in one of our bulletins scheduled for September, December 2020 and March 2021.
FEATURED RESOURCES
NEW SAFETY PLANNING APP   
Marilyn Ford-Gilboe and her team from Western University in partnership with the University of British Columbia, University of New Brunswick, Universite de Laval (francophone version), Johns Hopkins University (American version) have released their personalized Canada-wide safety planning app. The myPlan Canada app helps women in violent relationships assess their risks and plan how to stay safe. The free app is available on Apple and Android. Learn more
 STEP'S INFOGRAPHIC
Check out STEP's new infographic on the increased psychological distress in pregnant women during COVID-19.