Infographics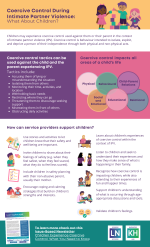 Coercive Control During Intimate Partner Violence: What About Children?
This infographic focuses on how children and parents experience coercive control during intimate partner violence, and what service providers can do to support children.
---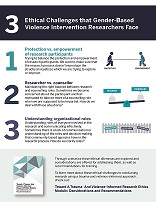 3 Ethical Challenges that Gender-Based Violence Intervention Researchers Face
 This infographic highlights 3 challenges identified in the report Toward a trauma- and violence-informed research ethics module: Considerations and recommendations. 
1. Protection vs. empowerment2. Researcher vs. Counsellor3. Understanding organizational roles 
---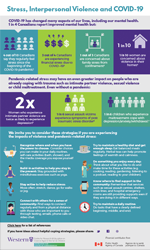 Stress, Interpersonal Violence and COVID-19
This infographic identifies ways the COVID-19 pandemic impacted peoples' lives and the impact it has on intimate partner violence, sexual violence and child maltreatment. Strategies for coping with the impacts of violence and pandemic-related stress are provided. 
---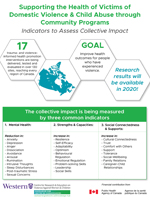 Common Indicators to Assess Collective Impact
Projects funded by the Public Health Agency of Canada from 2015-2022 came together to identify possible common indicators that could be measured across projects that relate to health promotion. This infographic summarizes the indicators identified. 
---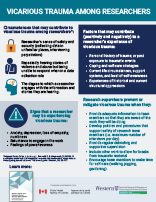 Vicarious Trauma Among Researchers
This infographic identifies: 
- circumstances that may contribute to vicarious trauma among researchers
signs that a researcher may be experiencing vicarious trauma
- factors that may contribute positvely and negatively to a researcher's experience of
- vicarious trauma
- ways to mitigate vicarious trauma