Infographics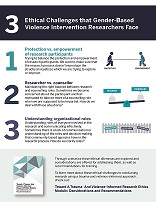 3 Ethical Challenges that Gender-Based Violence Intervention Researchers Face
 This infographic highlights 3 challenges identified in the report Toward a trauma- and violence-informed research ethics module: Considerations and recommendations. 
1. Protection vs. empowerment
2. Researcher vs. Counsellor
3. Understanding organizational roles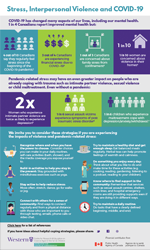 Stress, Interpersonal Violence and COVID-19
This infographic identifies ways the COVID-19 pandemic impacted peoples' lives and the impact it has on intimate partner violence, sexual violence and child maltreatment. Strategies for coping with the impacts of violence and pandemic-related stress are provided.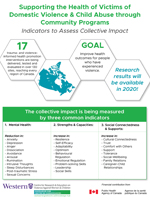 Common Indicators to Assess Collective Impact Infographic
Projects funded by the Public Health Agency of Canada from 2015-2022 came together tp identify possible common indicators that could be measured across projects that relate to health promotion.  This infographic summarizes the indicators identified.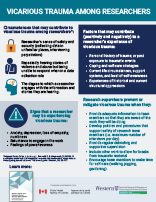 Vicarious Trauma Among Researchers
This infographic identifies: 
 - circumstances that may contribute to vicarious trauma among researchers,
 - signs that a researcher may be experiencing vicarious trauma, 
- factors that may contribute positvely and negatively to a researcher's experience of vicarious trauma, 
 - ways to mitigate vicarious trauma.